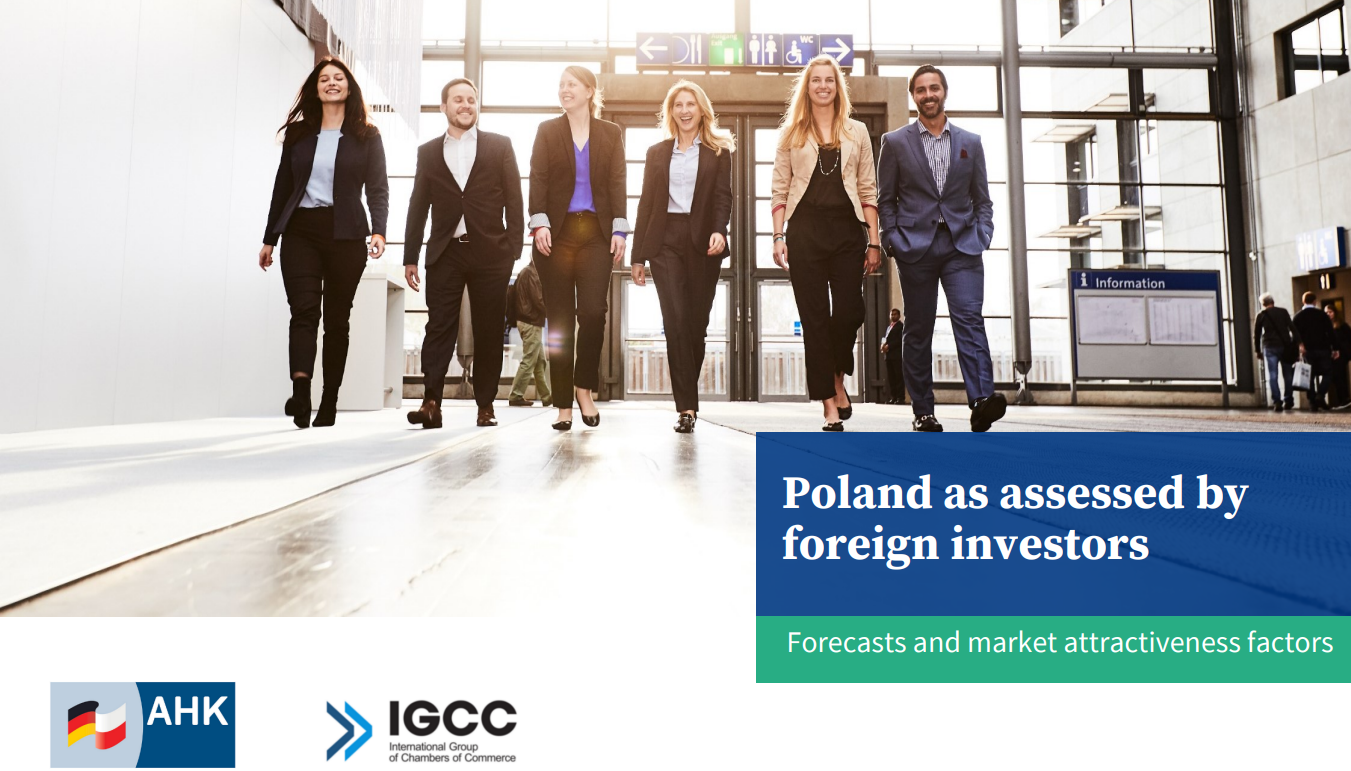 The Polish-German Chamber of Industry and Commerce (AHK), along with 14 bilateral chambers operating in Poland, including the Belgian Business Chamber, developed the economic survey titled "Poland as assessed by foreign investors. Forecasts and market attractiveness factors."  
The report presents the results of a 17th edition of the economic situation and investment attractiveness of Poland, which was conducted in March and April 2022 among over 212 companies with foreign capital in Poland representing the following industries: Manufacturing Industry, Construction Industry, Services, Trade, Electricity/Water Supply/Waste Disposal that operate on the Polish market. The majority of the entrepreneurs who have taken part in the survey are German investors operating in Poland.  
The report's findings show that 2022 saw a slight increase in the positive assessment of running a business in Poland compared to 2021. Industry estimation, in turn, appeared to downgrade from good in 2021 to satisfactory in 2022, but the general condition of companies remained on the same level in both years. Furthermore, when it comes to the key aspects such as company turnover, export earnings, number of employees, or capital expenditure, as compared to the previous year, the majority of companies predict those factors to stay at the same level or increase.  
The second part of the survey focuses on the attractiveness of Poland and dominant factors in this area, such as e.g., membership in the European Union, employee qualifications, productivity and motivation, quality of local suppliers and higher education, infrastructure, business partner payments' discipline. The highest number of opinions indicating satisfaction was recorded for membership of the European Union. The second and third place went to employee qualifications, and productivity and motivation accordingly. Other factors, such as availability of skilled labour, the flexibility of the labour laws, fighting corruption and crime, and conditions for B+R activity, were assessed worse. The worst results concerned, among others, public administration, political and social stability, tax system, transparency of the public procurement system and predictability of economic policy.  
Additionally, despite the major satisfactory response for Poland being an EU member, most of the surveyed companies are not interested in applying for EU subsidies but vote for Poland to join the eurozone. Another indicator is the current government of Poland, which is estimated negatively by the majority of companies.  
The report includes also forecasts for the future of foreign businesses in Poland. The greatest threat to the companies for the upcoming 12 months poses costs of electricity and raw materials, labour, and exchange rate. Higher costs of the materials are the result of, among others, a shortage of means for production and disturbance in supply chains, predicted by companies as the economic consequences of war in Ukraine. Nevertheless, EU – Central and Eastern Europe countries are still expected to be new suppliers to the surveyed companies. Western Europe is in second place. 
We encourage you to read the whole report, which is available in English (here) and Polish (here). The press release is available here in Polish.
Enjoy reading!