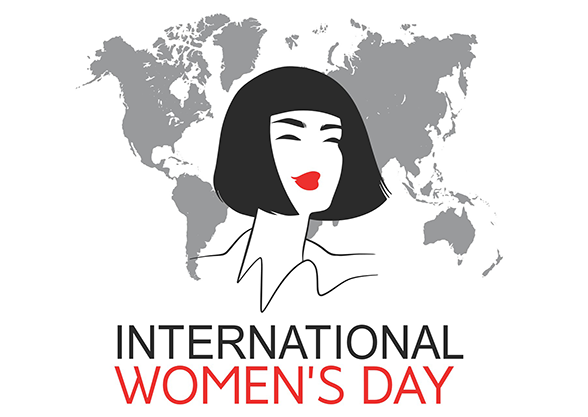 Emotions are slowly fade away after this year's exceptional International Women's Day the 8th of March 2021! 

We would like to thanks to all participants to celebrate this special day with us!
 
Welcome speech of Mrs. Ambassador of the Kingdom of Netherlands - Daphne Bergsma and Mr. Ambassador of the Kingdom of Belgium - Luc Jacobs and President of the Belgian Business Chamber Mr. Pierre Detry emphasized the importance of women's issues in business relations.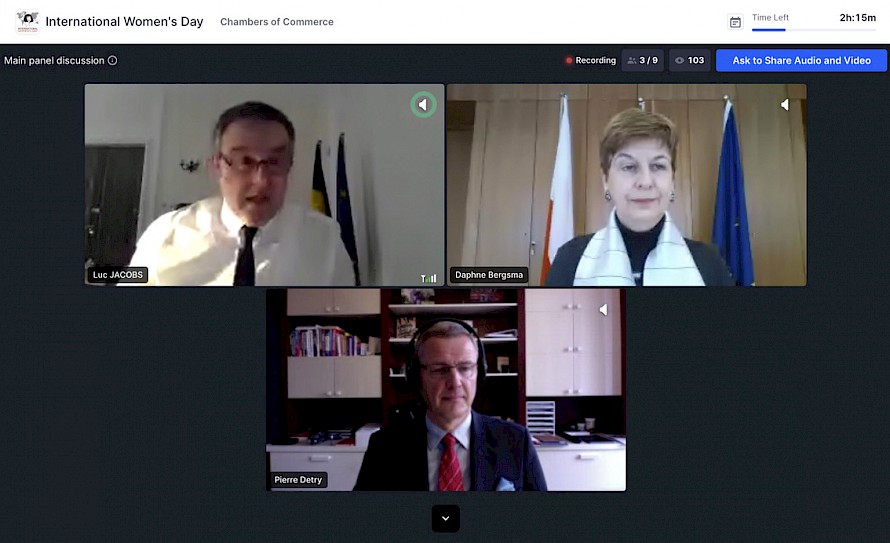 Can women keep work-life balance during Covid? The pandemic's impact on women entrepreneurs and women's careers.
During the main panel, the current situation and perspectives of women situation on labour market have been discussed. The programmes supporting women was presented by UPS and Caixabank. The panellists agreed that the equal payment should be guaranteed by the law. We are on the right track for it to happen in Poland! It was pointed out that the discussion on the gender equality, should not be addressed only to women, but they have to involve also men.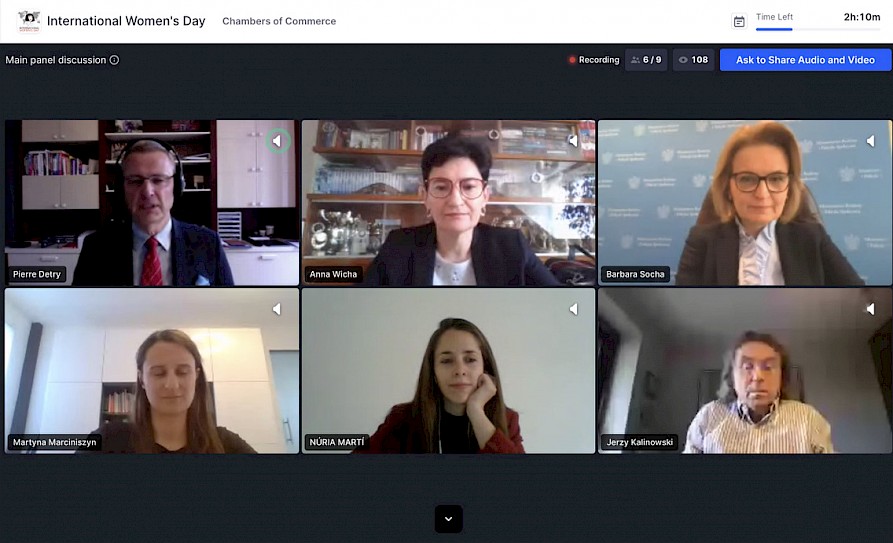 Panelists:
Anna Wicha - Public Affairs Director Poland, Eastern Europe, Middle East & North Africa of Adecco, has vast experience in HR matters and is a great specialist in the labor market.
 
Vice-minister Barbara Socha - Polish manager and civil servant, government plenipotentiary for demographic policy and deputy minister in the Ministry of Family and Social Policy.
 
Jerzy Kalinowski - Member and Founder of Together for Diversity in business initatitve (Razem dla Różnorodności) which was created out of the need to support organizations that want to implement and nurture a culture of diversity.
 
Joanna Matras - Deputy Director of CaixaBank Polska, involved in the topic of diversity and promoting activities supporting the participation of women in the business world.
 
Martyna Marciniszyn Europe Region eCommerce Marketing Manager at UPS, responsible implementing Diversity in the workplace.
Moderator: Pierre Detry, President of the BBC, BZen Bikes
After the main panel, participants had the opportunity to take part in three simultaneous meetings:
Women in Tech - success and challenges
These empowering speeches ensured us that #WomeninTech is not a challenge, but a future that is not worth fearing!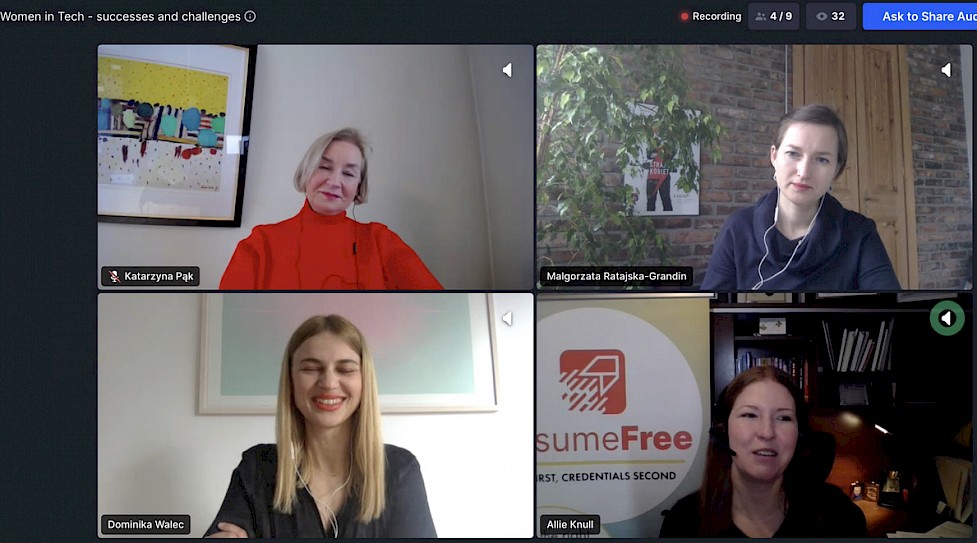 Our panelists:
 Allie Knull (she/her) - Founder & CEO of ResumeFree™, Top Recruiter 2019 Award Winner - ranked 10th. Her project - Resume Free is the only job board that connects candidates and employers based on traits and metrics that you can't find in a resume.
 
Katarzyna Pąk - Head of Marketing and Communication of Ericsson. Actively supports - as the role model - diversity idea, introduce CSR projects, work at ongoing projects with students. Founder of Ericsson collaboration with Fundacja Perspektywy at IT for She and Women in Tech Summit projects.
 
Malgorzata Ratajska-Grandin - Startup Program Global Leader, OVHcloud, after being the CEO of Geek Girls Carrots, a global community attracting women to IT and co-founder of Yagram Health. OVHCloud is a leading European cloud provider.

Moderator: Dominika Walec PhD from Foundation Supporting #OMGKRK 
Nurturing our relationships during the coronavirus pandemic
This panel was fruitful of practical tips and advices from professionals. 
It is fair to take a break to restore our energy.
District your fears with your beloved ones - in these difficult times, communication is the most important thing.
Even if you have a face mask, it's important to smile - a smile can be seen in your eyes!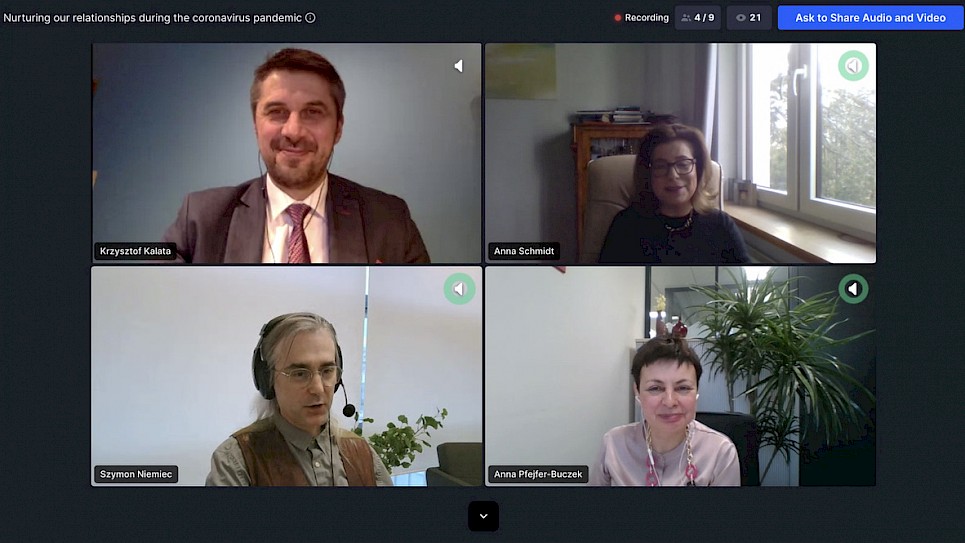 Panelists:
Szymon Niemiec - Psychologist in Harmonia Clinic LUX MED, supporting people in personal development since 1996, life coaching advisor. On a daily basis works with adults struggling with: anxiety disorders, emotional crises, difficulties in interpersonal relations, difficulties in coping with stress.
 
Anna Pfejfer-Buczek - Managing Partner at Transition Group, has over 20 years of professional experience, shared between business and consulting. Her professional interests relate to the impact of mental resistance on the functioning of an employee in the organization.
 
Anna Schmidt - Founder of Kevin Is Not Alone™, an organization that offers Youth Coaching Training and CEO of the Polish subsidiary of Career Partners International. Expert on career transition and organizational psychologist specialized in managing change, and building connectivity.
Moderator: Krzysztof Kalata, Praxeo Group
International Networking - a panel discussion of Benelux Embassies
Representatives of Belgium, Netherlands and Poland presented its policy regarding the businesswomen situation. The conclusion of the meeting was to learn from each other and co-operate!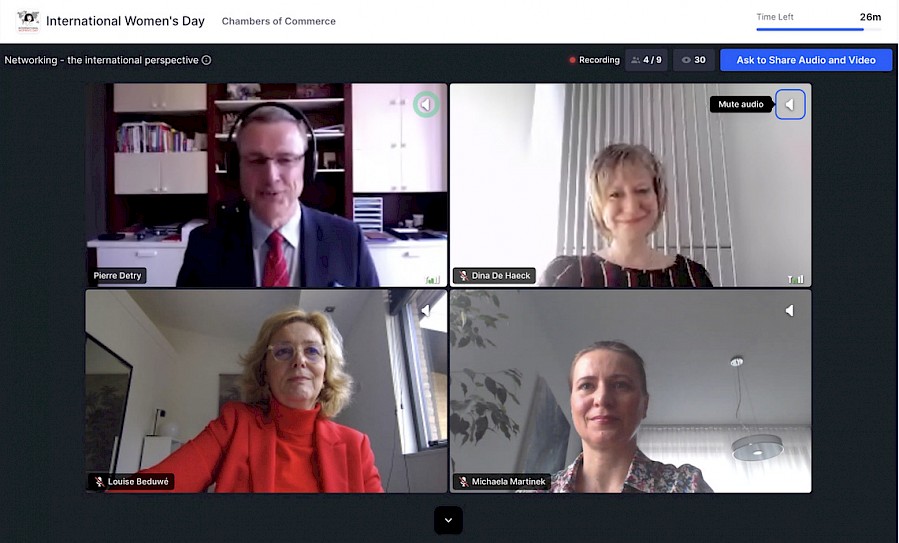 Panelists:
Dina De Haeck - Member of the board of Women on Boards - a non-profit association dedicated to promoting female access to directorship roles within Belgian enterprises.
 
Lousie Beduwe - Confederation of Netherlands Industry and Employers (VNO-NCW) is the largest employers' organization in the Netherlands.
 
Michaela Martinek – Vice-President of the BBC, co-founder of BBC Business Women Club a unique club operating at the Belgian Business Chamber (BBC), bringing together entrepreneurial international businesswomen, CEO at VGD Poland
Moderator: Pierre Detry, President of the BBC, CEO of BZen Bikes.

Many thanks also to our sponsors, partners and our co-organizers!



Let's hope that the inspiring conversations will give women the strength to act in business.
If you want to share your feedback about the event, feel free to complete the survey